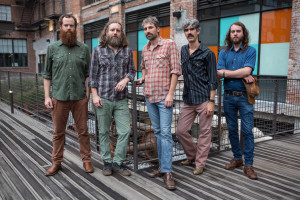 2015 began with the Packway Handle Band touring in support of their Yep Roc release, Take It Like A Man, alongside producer and collaborator, folk surrealist, Jim White. The band's second consecutive voyage aboard Kid Rock's annual Chillin' the Most Cruise yielded an invitation to join Kid Rock and Foreigner for forty amphitheater shows on the 2015 Cheap Date Tour. The tour took the Athens five-piece to all corners of the continental United States and included 10-consecutive sold out shows at the DTE Energy Music Theater in Detroit, a feat that was commemorated by Billboard Magazine. Since the tour wrapped in mid-September, Packway played the industry-focused, Americana Music Festival in Nashville, Bristol Rhythm and Roots Reunion, and the Hardly Strictly Bluegrass Festival in San Francisco, CA. At long last, the boys are back in Georgia gearing up to hit the studio and record a new album.
---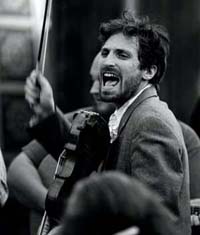 Andrew Heaton moved to Athens in 1996 for graduate work in Science. His love for music drew him into a variety of Athens bands including world-grass band Calliope Fair, rock band the Ohms, and bluegrass band a Real Nice Time, where he was dubbed the Carolina Heatwave. Andrew joined the Packway Handle Band in the summer of 2003 just in time for an incredible trip to the Telluride Bluegrass Festival in Colorado. He has been playing with the band ever since. He plays a 150-200 year old Austrian violin made by the Thier family which he strings with Evahpirazzi strings.
---
Josh Erwin was born and raised in the suburbs of Northwest Atlanta, Georgia and has extensive Georgia roots. He was first introduced to the guitar by his father, Mick Erwin, who played in a variety of bands, including a touring folk/bluegrass band in the 70's. Throughout high school and college Josh played in different rock and acoustic bands before deciding to focus on bluegrass flatpicking as his main guitar playing style. His interest in flatpicking, songwriting, along with exploring and playing bluegrass with Tom and Michael, and the creation of The Packway Handle Band all happened in 2001. The immersion and the learn-as-you-go approach within the band contributed to Packway's interpretation of bluegrass music and what can be done in and out of its boundaries. This method also molded Josh's unique guitar playing style and influenced his songwriting. Adding electric the guitar has aided in discovering and writing new genre-bending sounds and songs for the Rattletrap portion of Packway's live sets. Josh plays a Crafters of Tennessee Rosewood Dreadnaught guitar and a 1996 American Standard Fender Telecaster. He currently breaks medium gage GHS Bright Bronze strings.
---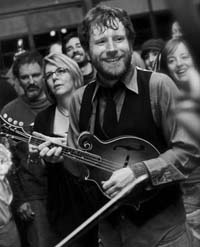 Michael Paynter was born in Cleveland, Ohio but has spent the vast majority of his life in Georgia. His interest in playing music came about when he decided to buy a drum set at the age of 14. Shortly after, he began playing around with a friend's (Tom's) guitar. Not having any previous knowledge of the guitar, Michael picked it up for the first time and sat it on his lap upside-down. This is how he learned chords and eventually scales. For about four or five years, he increased his knowledge of the guitar in this manner, mostly influenced by jazz, but also drawing from rock and country-rock. After hearing Bela Fleck for the first time, Michael began developing a passion for bluegrass. He was inspired by Bela's ability to combine so many musical influences into his own unique style of music. Soon after, he had the opportunity to play a mandolin for the first time and instantly fell in love. It felt more natural to him than the guitar so he began teaching himself to play the mandolin in the same upside-down method he had learned guitar. This began his journey into the studies of bluegrass as it was and what it has become. His style draws from many influences and his unique way of playing upside-down has allowed him to see the mandolin as others have not. Michael plays a custom-made F-model mandolin made by up-and-coming Oregonian builder, Andrew Mowry.
---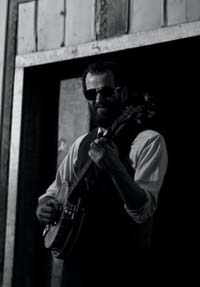 Tom Baker, a native of Georgia, grew up in a family of music fans. He played piano and trumpet in his early years and later took up guitar and bass. While in high school, he inherited a five-string banjo from his uncle, Niles Puckett. Upon discovering the music of Bela Fleck, Tom became interested in bluegrass, folk, and old-time music and began learning Scruggs style banjo and later clawhammer. After moving to Athens in 1998, Tom started playing music with high school friends Michael and Josh, eventually forming the Packway Handle Band. Tom plays a Deering Deluxe and a Nechville Meteor.